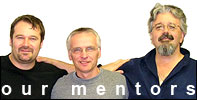 Michael Babin
Michael has the ability to present the material in such a way that will inspire students to do their best. Michael is certainly not pretentious but rather as legitimate as one can be. He does not impose his beliefs on anyone but rather encourages one to search for himself. He has been involved with martial arts for close to three decades and still is as passionate and dedicated as the day I first met him, fifteen years ago. The amount of knowledge that he has accumulated over the years certainly classifies him at a mastery level.
He considers Allan Weiss and Erle Montaigue as his main instructors. Michael was my first taiji instructor. A good instructor must have a lot of knowledge and also it must be complimented with a good sense of humor and Michael doesn't fall short of any of these. I consider him a good friend and an excellent instructor. His book, T'ai Chi Ch'uan The Martial Side is a good read for anyone who is serious about taiji. Michael has written close to 100 articles that appeared in some of the leading martial magazines around the world.
Sam Masich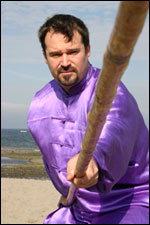 A master teacher will provoke thought and that in turn will help the student to teach him/herself. This goes much, much further than just showing and explaining a technique. Sam is that individual, his enthusiasm to share his knowledge with anyone is endless. Taiji is an art, teaching is an art, and he has definitely mastered each one..

Sam has been involved with martial arts for nearly 30 years and he has studied with some of the greatest masters of our times among which includes Master Liang Shouyu, Dr. Yang Jwing-Ming, Jou Tsung Hwa, Yang Zhenduo and Chen Xiaowang. He is a push hands and form grand-champion here and abroad. He is internationally known. How can I say this……he's the real deal!